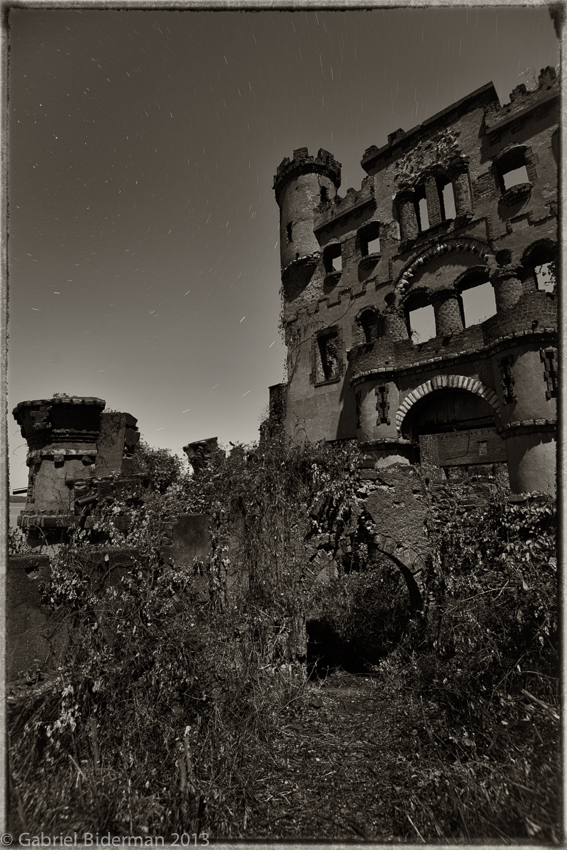 You heard it folks – for the first time Matt Hill and I will be offering a New Moon Night Photography Workshop on Bannerman Island!
This will mean lots of opportunities to do light painting and play with the more stars than ever before – rumor has it we might even be able to see the Milky Way!
Bannerman Castle is a turn of the century "castle" that rests upon the small, lonely island of Pollepel about an hour north of NYC in the middle of the Hudson River. Perhaps you've seen it on a train ride north or on a boat tour from Beacon; it has mystified generations of people and now you will have the opportunity to photograph it at night.  This will be a rare overnight excursion, so bring a tent if you think you will sleep, though last time we shot until 9am!  Thom Johnson, co-founder of the trust and author of the book Bannerman Castle (NY) (Images of America)
, will be on the island for a historical tour before we set up our tripods and focus on creating some truly outstanding images.
Gabriel and Matt will go over the basics of night photography and how to successfully meter, capture star trails, star points, paint with light, and hone your "night vision". The majestic Castle and Residence will be the main focus but there are many little details on the island that will be yours to capture, including the Twin Towers, rising from the water, that guard the south harbor. This will be a very hands-on, one-night workshop that is sure to add some amazing images to your portfolio.  We work with the Bannerman Trust to get this unique access to the island.  There are basic facilities on Bannerman, but think of it as a camping adventure – and bring with a tent and sleeping bag….though don't expect to sleep much!  The armoury, or castle as most people call it, has recently added several stabilization poles to it continue to stand tall against the elements.  I don't see these being removed any time soon and your photographs can either embrace them or there are shots like the one above which is an angle that doesn't have the supports in it.  Below is what the castle looks like now and was taken by good friend Rob Yasinsac whose book Hudson Valley Ruins: Forgotten Landmarks of an American Landscape
 is a wonderful history and guide to some of New Yorks finest and forgotten ruins.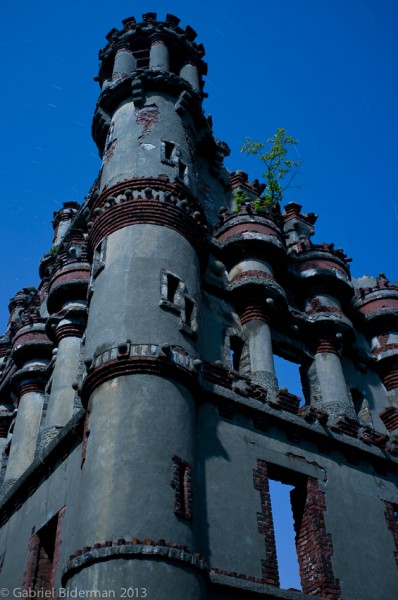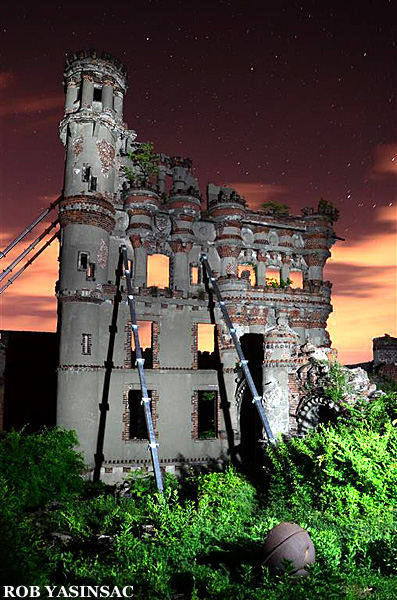 Logistics:
Saturday August 23rd from 5pm until 9am Sunday August 24th.
Fee: $350 for one night.  Payable by check/money order to the Bannerman Castle Trust. All money goes to support the Trust and help stabilize the castle and island.  Please contact me for this information.
Boat transportation to the island and from Cornwall on the Hudson are included in the price. We recommend that you bring your own food, snacks, and water. Tents and sleeping bags are recommended, if you want to sleep. No animals live on the island but there can be poison ivy.  Please wear the appropriate shoes and clothing (shorts are not recommended). Portable toilets are located on one side of the island.
This is an extraordinary night adventure and is limited to 6 people.
Technical Requirements:
Film and/or Digital SLR Camera, Tripod, & Cable Release
Who should attend: You must be familiar with your camera, especially in Manual Mode. A full list of suggested gear will be sent to you upon payment.
Cancellation Policy:   $50 cancellation fee if you need to cancel once you have paid. If we need to cancel due to weather, we will do our best to reschedule for later this year, and full refund would be available.
To check out more of my 2014 night photography workshops, including an epic 10 day adventure to Namibia – one of the clearest places in the world for stargazing, go to the recently updated workshop page.