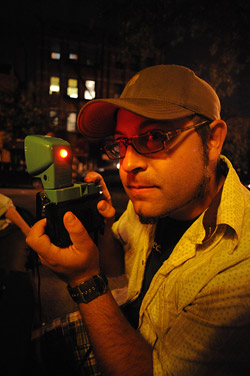 A travel and self taught fine art photographer for over 17 years, I love the "process" of creating the image. Classic cameras, Pinholes, and Plastic Cameras help push the visions along – I'm a big fan of choosing a specific camera to get me into a certain mindset. I try to spend some quality time in my Darkroom every month – though, thanks to Lensbabies and my Nikon D700, the digital darkroom is piquing my interest in pixels!
I moved to Brooklyn 9 years ago and started working as a fine art printer, but with the onslaught of digital, those jobs quickly became hard to come by. Soon after that, I was hired by a small local mom and pop photo store called B&H. It has been a great experience, giving me the opportunity to try out the latest gear and meet some amazing friends. For the last 6 years, I have been representing B&H at various trade shows and seminars taking pictures all along the way from Paris to Oklahoma and Hawaii!
"What is ruinism?" you ask? Well, I have always been fascinated with mythology and ancient history and, when 15 years ago, I got the opportunity to visit some of these ancient ruins in the Mediterranean, my photography found a new theme: ruinism ~ the beauty of decay. One of my theater professors at UNH taught us that every person is like a coin; you have two sides and what makes the character interesting is when you flip him/her and see what is on the other side. Photographing these ruins brought out this beautiful dichotomy in life and thus ruinism was born. I took this experience everywhere I went, with my camera flipping the coin as my finger pressed the shutter.
My work has been featured in photography exhibits in San Francisco, New York, London, and Hawaii:
TIMEXPOSED – John Allan's NYC – 2009/10
f295 21st Century Photography – Camera Club of NY – 2009
11th Annual Krappy Kamera Contest 2009 – Soho Gallery – NYC – 2009
Festival of Visual Arts – Morton Memorial Library – NY – 2009
f295 21st Century Photography – 707 Penn Gallery – Pittsburgh – 2009
The Nocturnes – Online Exhibit – 2008
Traveling Through Light – Morton Memorial Library – NY – 2004
Worldwide Pinhole Day Workshop & Exposition – HTC Studios – NYC – 2004
In Movimento – MTA Subways – NYC – 2003
Well Hung – Infinity Gallery – NYC – 2003
Worldwide Pinhole Day Exhibition – Infinity Gallery – NYC 2003
New Yorkais – Art sans frontiers – Nantes France – 2002
AQA in the East Village – Tompkins Square Gallery – NYC – 2002
Focus on Sculpture – Grounds for Sculpture – New Jersey – 2002
Our New York – AQA Gallery – NYC – 2002
WorldWide Pinhole Day Exhibition – Infinity Gallery – NYC – 2002
The Day We Changed – AQA Gallery – NYC – 2002
Models – London – 2000
Plastic Fantastic – SF Photo Center – San Francisco – 1999
Two and a Quarter Travel – SF Photo Center – San Francisco – 1998
Umbra:penumbra – 23rd Annual Photography Exhibition – Academy Art Center Gallery – Honolulu – 1997
Genus – Morning Due – San Francisco – 1997
A Collective Photo Presentation – SF Photo Center – San Francisco – 1995
Bodies of Emotion – Muddy Waters – San Francisco – 1995
I've also had the pleasure of being published in print and on the internet:
Dark Chamers vol 2 – The International Guild of Pinhole Photographers 2008
Models Own Winter 2000/01 Catalogue