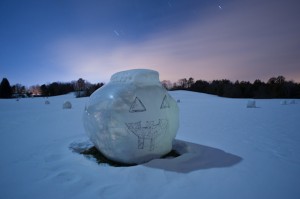 I'm home for the holidays, rural New Hampshire, lots of snow and below freezing temperatures. Yup, old man winter loves it up here!
The other day I was driving down one of those country roads when through the trees I spotted these snow covered bales of hay. I didn't have time to stop, plus I knew I wanted to take the shot at night. So the next day just before twilight I trudged through the foot of snow to set up this image. The surreal surprise was on me when I saw the "face" on the bale of snow, which I definitely couldn't see from the road. The exposure is 8 minutes long, facing the west for the longer star trails and last gasp of the twilight.
As we are nearing the end of the year, I've already started thinking about photography resolutions for 2010, with one of them to not let these type of pictures pass me by.
When you see something, snap something.