I was incredibly fortunate to have my first "work" trip of the new year be a Linblad/Nat Geo week-long Expedition to the Baja Peninsula. I soon discovered that the Sea of Cortez is an amazing place to set up a cubicle! My good friend, David Brommer, and I were sent down to showcase a ton of gear to the lucky 60+ guests of the tour, plus teach alongside famous Nat Geo/Traveler photographers Bob Krist, Michael Melford, and Ralph Lee Hopkins.
We flew into Cabo San Lucas, and after joining the rest of the tour, we took a 3 hour bus ride to the very remote and exclusive Las Cruces resort. First overwhelming impressions – the constant crashing of the waves along the shore and the bazillion stars shining brilliantly in the sky. Even though I was exhausted after a full days worth of traveling, the night sky drew me out to shoot some long exposures on the Fujifilm XE-1 and X Pro 1.
This first shot was taken along an old breaker/dock area that wasn't doing a great job of stopping the waves from spilling over. I reluctantly left that camera to burn an hour long exposure and then set up the other rig just out of the picture in the upper left frame.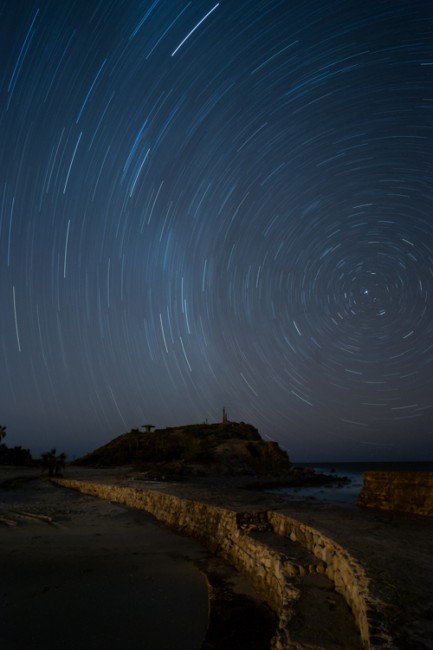 The area is called Las Cruces, because when Cortez landed here in 1535 he placed 3 crosses to commemerate his arrival in the land of supposed gold, but really lots of pearly oysters.
I'm torn between the celestial and the hour long star trail shot for which I like best. No moon was out and the sky was riddled with stars and satellites from the water to the mountains on the other side
What really sucked  about this week was that I had to get up for the sunrise over some epic landscapes every morning. I'm not a 6am kinda guy…but work demanded it, so I showed up. I really loved this in between moment when the warm morning sun shared the same time and space as the cool night sky. This magic moment was fleeting as the sun quickly began it's domination of the day-time.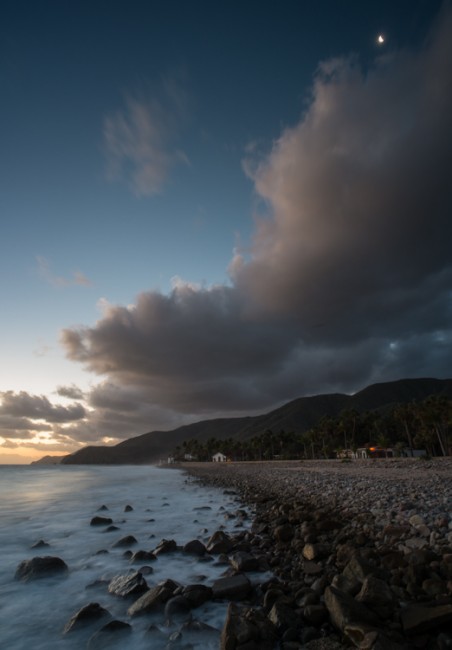 Bob Krist was talking a lot about creating moments that include people for storytelling and scale. I just love how the three philosophers are each pointing their camera in a different direction with the brilliant sunrise silhouetting them.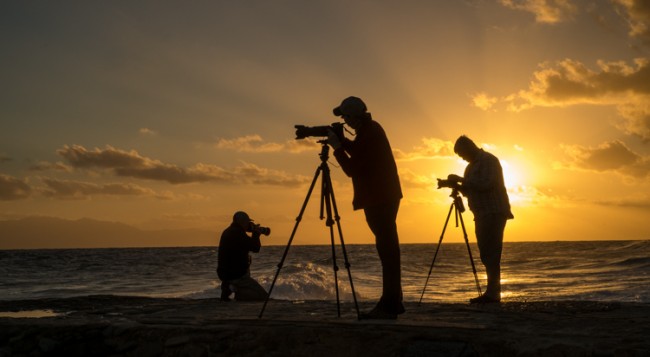 We had set up a Canon 1dx with a 300mm 2.8 lens and a 2x teleconverter for people to use on a tripod and gimbal head.  Here I caught some interesting wildlife – one of my favorite students Leonard, who tried every piece of gear we brought with us! This was almost the last siting of Leonard before he was swept to sea…luckily we were able to recover the Canon 8-15mm lens!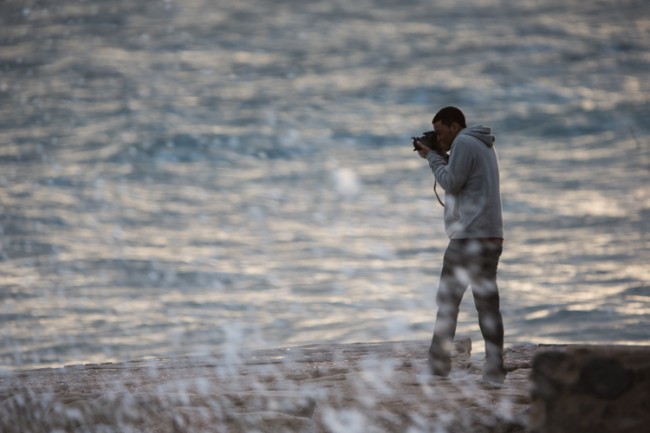 The Expedition was a Land and Sea Adventure.  We started on land and shot the sunrise, ate breakfast, and then had several photography lectures through the high sun hours.  The classes covered the basics to inspiration.  I gave a talk on night photography and then led the students out on several night shoots. Here is a shot of Ralph giving his presentation and a sampling of all the gear that was available for the guests to use.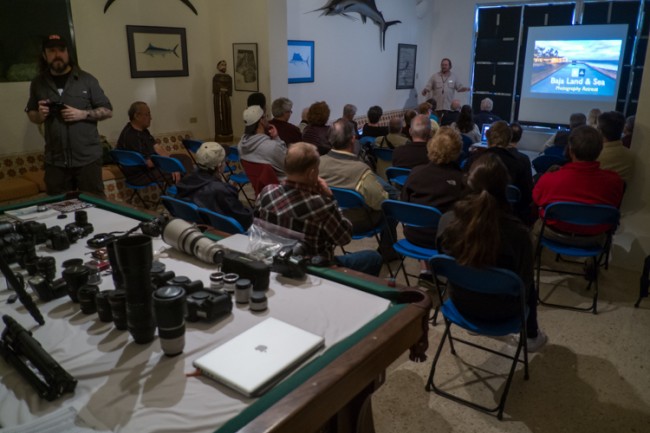 On the 4th day we left the land for the sea.  We boarded Linblad's Seabird in La Paz and got our sea legs ready.  We were incredibly fortunate as we did not have to go far before we were able  to witness whale sharks feeding!  I'm still working on that underwater video footage but if that riding with whale sharks wasn't enough, for desert we witnessed two humpback whales breaching as the sun set along the horizon!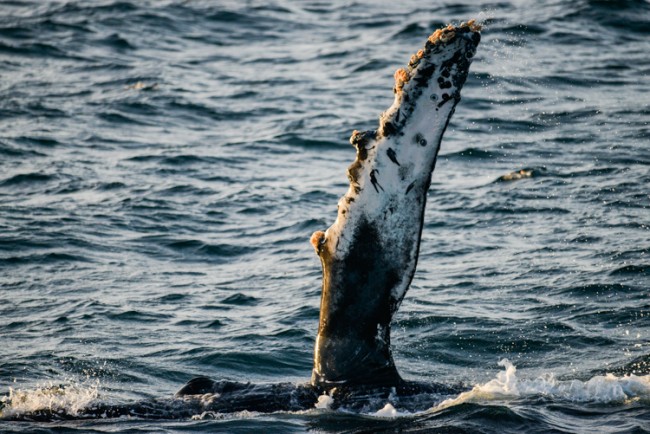 The next day, after a brilliant sunrise and breakfast, we raced herds of dolphins as they performed many acrobatic tricks around us! I've really never shot "wildlife" before and it is really tricky! Ralph called out camera settings, shutters blazed away and we tried to anticipate where the dolphin would break through the sea. Sometimes you just had to set the camera down, breathe, and take in all the beauty. Then fire away again! We photographed the dolphins for maybe 20 minutes and I ended up with over 700 shots! I had to do a quick edit afterwards, immediately deleting 250 missed shots. I probably ended up with 3 dolphin images that I could be proud of.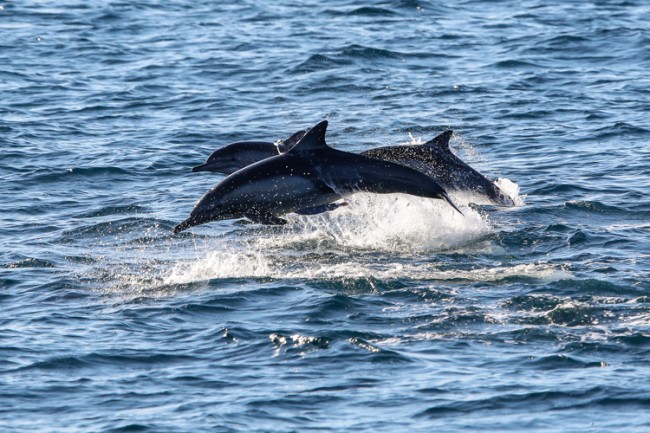 Another 6:30 wake up call, another beautiful day in the Sea of Cortez.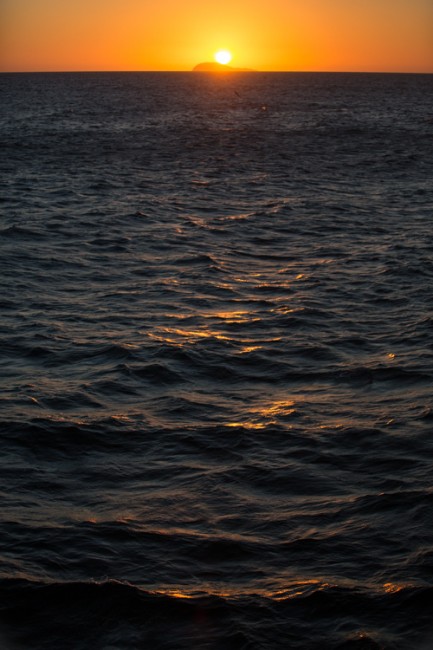 Part of the reason I was asked to join this expedition was to teach the night photography segment of the workshop. Most of the students were new to creating night scapes and we got 3 moonless evenings to experiment capturing stars and the trails that follow.  Below is a 1 hour exposure on with the Fujifilm X E1.  The Fuji X E1, X Pro 1, and  X100 are the most capable cameras of creating 1 hour exposures without the need for stacking or long exposure noise reduction.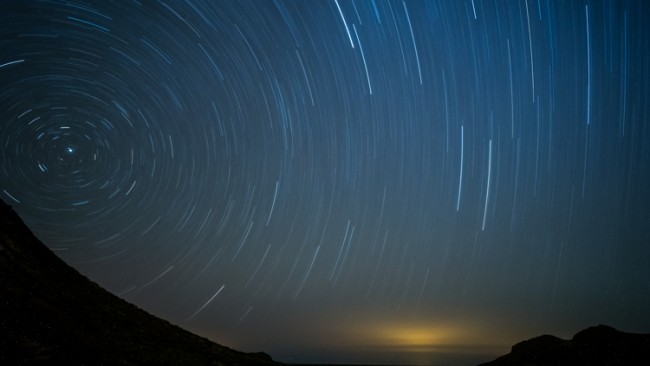 And then my coworker, good friend, co-teacher, and bunkmate – David Brommer and I, in our quarters!  I'd like to thank David for working hard on the relationship with B&H and Linblad/Nat Geo.  This was one of the coolest gigs that I have ever worked!  After swimming with the sea lions, I have now adapted them as my new spiritual animal!
But in all seriousness, it was an epic adventure.  We became great friends with the 65+ guests who signed up for the trip.  They were so thankful to have B&H reps on board and help them try out all the latest lenses – from 4.5mm to 500mm.  It was an honor to teach alongside with Bob, Michael, and Ralph.  And I have a newfound love and respect for wildlife and expeditions.  Linblad is one of the most professional organizations that I have ever dealt with.  The adventure starts when the sun rises and there are tons of opportunities for you to take advantage of the day.  Whether it be snorkeling with sea lions, kayaking, zodiac cruises, or just chilling at the beach.