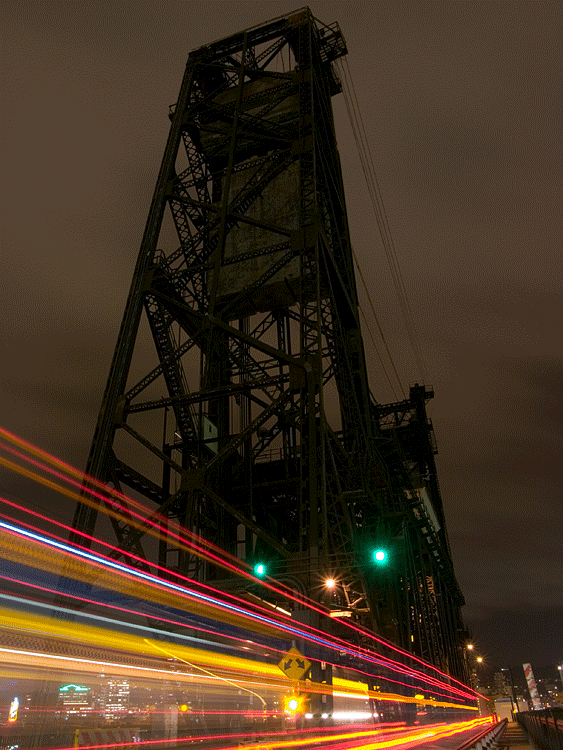 How many times do you find yourself driving around when you pass by something interesting and say "I should photograph that."? And how many times do you actually do it?
It is always a constant battle with me because if I truly stopped and took all the pictures I wanted while driving I think I'd still be on my honeymoon!
On a recent trip to Portland, Oregon, I found myself in this very predicament as we approached the Willamette River on our way to Voodoo Donuts. It was night time as we slowly passed over this very unique looking bridge and I uttered those magic words: "That would be cool to shoot". Everyone was game, so we parked the car and walked back over the bridge. The Steel Bridge is named after the original double deck swing Steel Draw Bridge that was built in 1888 and was one of the first bridges to use steel instead of wrought iron. The current Steel Bridge is the only double-deck bridge with independent lifts in the world and the second oldest vertical lift bridge in North America, after the nearby Hawthorne Bridge. Over 9,000,000 lbs of concrete counterweights help raise the lower section up to 216ft. to let large boats pass. The real ingenuity, however, shows itself when the lower section is raised 72ft. and telescopes into the upper section without disturbing it, thus letting traffic continue over the bridge. Pedestrians, Cars, Amtrak, MAX Light Rail and bicycles all use the Steel Bridge to cross over the Willamette River to get into downtown Portland.
This shot was taken on my point and shoot digi camera on the best travel tripod in the world, the Gitzo 1550. The light streaks are from the MAX Light rail and cars that passed through my photo during the 30 second exposure.
And always remember the next time you see something, don't just say something, click something!