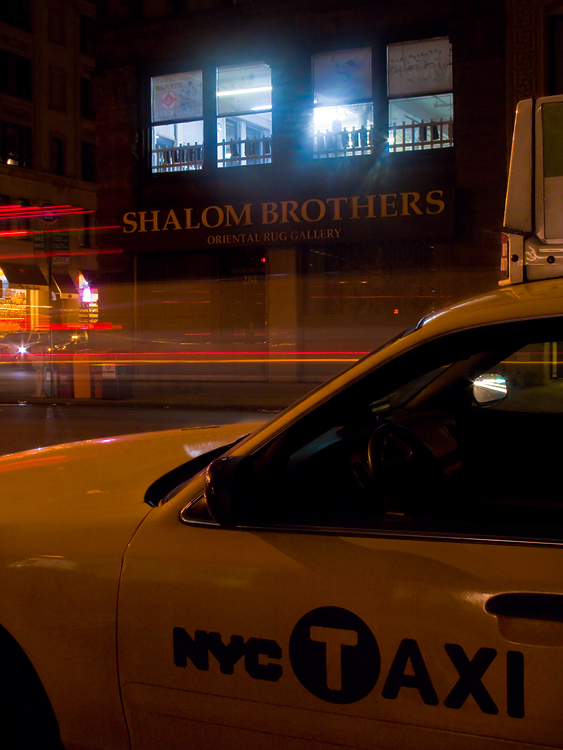 What a week! It all started out in Fenway Park as I experienced one of the coldest and quickest Red Sox games I've ever been too! My brother and I were both in Boston for business so we made certain to fit Fenway Park in our agenda! It was a great game as the Sox won in the bottom of the 9th against the Blue Jays!
Coming back to New York I had a great "date" night with my paintballing, large format shooting, warhammering, and great friend, David Brommer. We went and saw the best superhero film to date, Iron Man, then had some serious BBQ ribs at Blue Smoke, and finished up the evening doing a little night shoot around midtown Manhattan. David was rolling with a 4×5 camera and I had a pinhole camera and the trusty G9. Pinhole night photography is definitely a challenge on your patience as exposures were easily into the hours, so I abandoned that idea and stuck with the digi. Not much complete darkness in New York City these days so I embraced the cabs and lights which resulted in this Photo of the Week! Last weekend I also sat in on the D65 workshop taught by Seth Resnick and Jamie Spritzer. If you have the time, money, and desire to learn Lightroom and how to survive in the Photo Industry, I highly recommend taking their workshop. This is about the 4th time I've sat in on it and I learn so much each time. Seth was even spending time demoing Lightroom 2.0 Beta which looks to be a giant step forward from the last version. I processed the above image in LR 2.0 and was able to lighten up the cab by a full stop IN LIGHTROOM which I thought was pretty cool.
Oh, one final note, if you are going to see Iron Man ~ stay until the end of the credits for a nice surprise or check it out on youtube. Thanks to Tony on that tip!