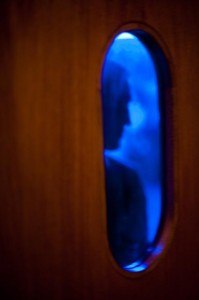 Inspired by dear friends Stacy and Andy's 2010 resolution to take an inspirational Photo of the day, I'm reinstating my photo of the week blog. Hopefully this will inspire us all to carry our camera, shoot and share more! The inaugural photo of the week was taken in New Orleans at the Sazerac club. We were all imbibing in some wonderful beverages when I noticed servers coming in and out of a surreally lit kitchen. I grabbed my camera and stood near the entranceway hoping not to get hit by the opening door and captured this.
Looking for more inspiration and access to one of the coolest locations to capture images of Lost Americana?
Joe and Troy have a few spots open to their Pearsonville Junkyard Workshops in March and April. I took this workshop last year and had an amazing time, plus I significantly built up my night photography portfolio. You have 3 full moon nights of access to amazing old cars from the 1930's-70's, within the backdrop of the Mojave Desert mountains. My light painting techniques became much more refined as Joe and Troy shared their knowledge and took a lot of the guesswork out of using flashes and flashlights in night photography. Check out my previous blog and images from last year.
For more information and to see Troy and Joe's amazing images check out the Pearsonville Junkyard Night Photography/Light Painting Workshops.