The process of poring over your work is full of nostalgia, criticism, angst, and pride.  As an artist, you need to spend time with your work to see what sticks.  Some images that were important to me last year don't have nearly the same hold now. We constantly create to inspire and inspire to create. Back in January, Tony Rizzuto, from Photographer's Breakthrough, asked if he could feature me as their February Breakthrough Artist.  I've long admired Tony's imagery and educational work.  He started Photographer's Breakthrough over a year ago with fellow creative Elizabeth Stone.  It is an amazing online resource to get feedback, listen to critiques, and gain inspiration.
I can't remember the last time I was interviewed, and I was definitely a little bit nervous.  Luckily they sent me their questions via email and I was given a week to reply!  I was asked to submit 40+ images broken into 3 different themes.  The 3 themes I chose all had to deal with Time. Night Visions focuses on my fascination with the night sky. Time Exposed explores the movements and magic of the long exposure – with a heavy focus on my pinhole work. Moving Portraits, a new project, hasn't been featured on ruinism before.  This is my take on the smaller snippets of time.  I combine these little flip book photos to create mini video vignettes of moments that we might normally pass by.   Soon after all the words and pictures were sent off to Photographer's Breakthrough; another good friend, Eileen Rafferty, asked if she could feature my work in the winter issue of her magazine, Butterflies and Anvils.  I met Eileen about the same time I met Tony at the Rocky Mountain School of Photography.  Eileen is an inspirational educator that is very fascinated with the process of creativity. Eileen had recently come to speak at the B&H Event Space as well as be featured on B&H's Photo's Real Exposures.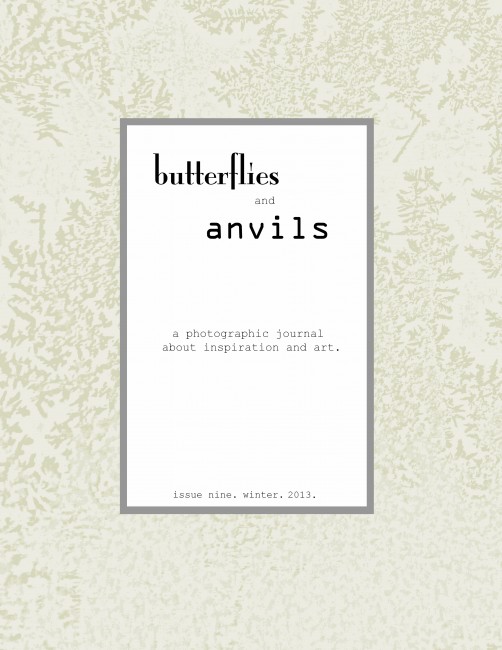 I have been a big fan of Butterflies and Anvils – Eileen's photographic journal about inspiration and art.  I'm proud to say that I have all 8 issues of this quarterly magazine and was honored to have my work featured in the latest issue. Because I had recently subjected myself to this "poring over" process with Photographer's Breakthrough, I felt an incredible comfort with my work and where I was going.  Of course that can change on a daily basis, but once Eileen and I got chatting about my images and the process of photography, you couldn't shut us up!  We talked about various projects, tools, and inspirations for over an hour and a half. Once we had the words, we discussed what photographs would fit best.  I'm very interested to get the magazine and to see how Eileen edited the work.  She did send over the first page of our interview which can be seen below.
Issue 9 Winter 2013 of Butterfly and Anvils will also feature more visions, creative writing, seasonal flavors, and general musings on the artistic path from Eileen and her friends.  Issues are printed on demand through HP's MagCloud and cost $20. HP uses a heavy stock paper and the quality of the journal is very high.  Once you order Butterflies and Anvils, it typically takes 7-10 days to get in the mail. I should have mine next week! So please check out Photographer's Breakthrough and Butterflies and Anvils and let me know what you think. If you are a Creative, don't forget take some time to really go through your work.  Make some prints, share them online, hang them on the wall and live with them. Look at what you did 10 years ago, 5 years, last year, and last month. What images still resonate? Keep poring and keep creating.