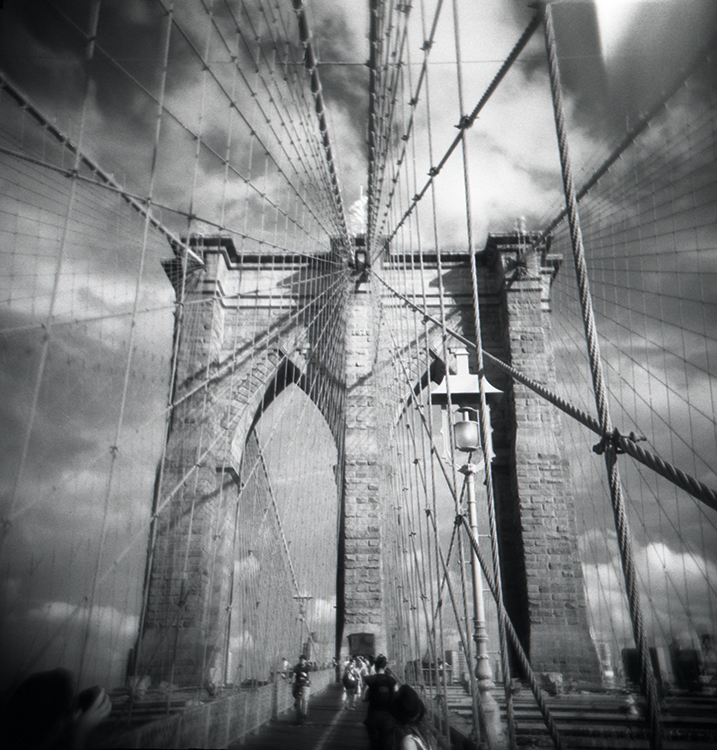 What a week! Less than 15 hours after touching down from my week at the Maine Media Workshops I met up with over 40 strangers and led them over the Brooklyn Bridge in celebration of Scott Kelby's 1st Annual Photowalk. A Photowalk is a social gathering of photographers who walk around, take pictures, have fun, and share their images. Scott Kelby is "the man" who organized over 6,000 people from 43 countries (44 states in the U.S) and in 241 cities to come together on August 23rd and have fun photowalking. There were 4 photowalks in NYC alone! Thanks to Scott, there were probably 1 million images taken that day in the name of photowalking! Pretty cool. Oh ya, Scott Kelby is also the president of the National Association of Photoshop Professionals, #1 technical writer on Photoshop (he makes it fun and funny!), and good friend.
When Nancy and I showed up to our meet our fellow Photowalkers at the base of the NYC side of the Brooklyn Bridge we all felt like we were doing something special. In front of us were hundreds of tourists crossing the bridge, but we were photowalkers and we were on a mission to shoot, have fun, and get some ice cream on the other side of the bridge! The walk was two hours and probably took 1 hour to be mindful of the bikers, tourists, and other photographers crossing the bridge. The other hour was spent exploring the Brooklyn Bridge Park, cobblestone streets of Dumbo, and the Old Fulton Landing, which has spectacular views of the NYC Waterfalls and the 125 year old Brooklyn Bridge. I was happy to see that I was not the only one shooting film as I counted 3 people using Holga/Diana cameras!
It was a great time, Nancy and I met so many friends and great photographers! Our group's top picks can be found on our flickr page. Look through here and tell me your favorites! I had a tough time choosing "the one" as there were so many strong images. My winning choice can be seen here.
You can see all the winning images from all the cities, including the grand prize via the Photowalk website.
Finally, kudos to Geoff Fox, who travelled from Connecticut to take part in the Photowalk and created this amazing panoramic shot of the Brooklyn Bridge and Lower Manhattan from the Old Fulton Landing.