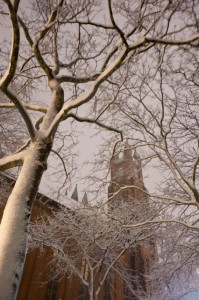 Snow definitely brought a change to the landscape of New York this week. It snowed all day and night and when I got back to Brooklyn I was inspired to get the tripod out and risk the elements. Wonderful images can be captured in the rain and snow but no matter how weather sealed your camera is it is important to keep your camera dry. I'm a big fan of the kata rain covers which give you full access to your camera and controls while keeping your camera dry.
Lens hoods will also do a great job keeping the elements off the glass of your lens. For the image above I did shoot into the snow so having a lens cloth to dry off the lens in between shots is also helpful. When I was shooting in Pittsburgh last month the temperatures were in the teens and I noticed that my rechargeable batteries were quickly dying. I extended the life of my battery by warming it up in my hands every so often. I'd also advise keeping an extra battery warm in your pockets that you can swap out.
So don't be afraid to get out in the elements, rain and snow can bring unique reflections and alternative ways of seeing.