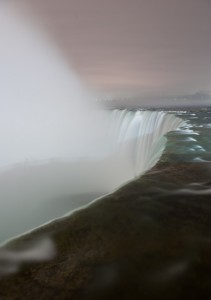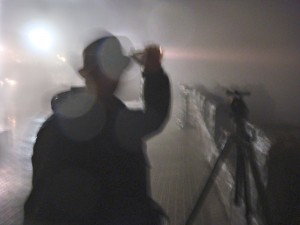 Dismal weather dispels photographers, but for those who aren't afraid of get a little wet, dramatic images can be captured.
Did I say a little wet?
I was pelted with hail when I landed in Buffalo.
Then it rained, rained, and rained.
But the idea of shooting Horseshoe Falls, the Canadian Side of Niagara Falls did not deter me and the unofficial "Mayor" of Buffalo, Wayne Geist.
So around 11pm, after we were done working our gig on Grand Island, we drove 5 miles, crossing the border, and headed over to the Horseshoe.
With the wind blowing the rain and mist from the falls everywhere, we probably set a record for the fewest amount of tourists (4) since the 17th century.
I worked quickly doing several test shots to work out composition and exposure, and when the wind finally decided to not blow the mist right towards us I quickly set up a minute and a half exposure.
We were standing right at the edge of the Horseshoe Falls, the sound of the water crashing over 170 below was deafening.  I love the pinkish sky and that you can see our reflection in the mist.
Wayne's picture below more accurately shows the weather conditions.  I'm using a flashlight, practicing lightening up the rocks in the dark foreground of the falls while protecting my camera under my coat.  I really missed my Kata Rain Cover which would have done a much better job protecting my camera and lens from the Niagara Elements!
All in all we spent 20 wet minutes at Niagara Falls which of course was fun to explain to border police as we returned back into the States!