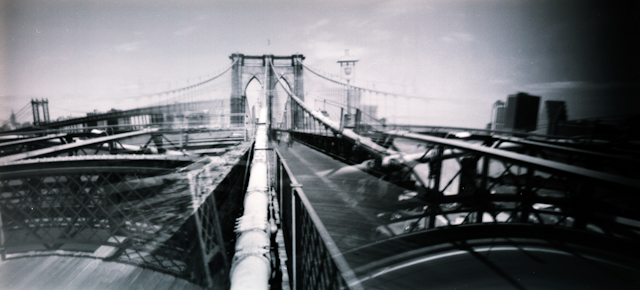 Pinhole hunting season is officially afoot! This Sunday, April 24th is World Wide Pinhole Day, so put aside those multicoated glass lenses and step back in time and try one of the oldest forms of photography. See my previous link for an explanation on what a pinhole is and what types of pinhole cameras are out there. You can adapt any digital camera to take a pinhole body cap or lensbaby pinhole/zoneplate but I find the best images come from homemade pinhole boxes or the beautiful Zero Image teak and brass high end cameras. Pinhole Photography will force you to slow down your process and be more reflective. Average exposures during the middle of a sunny day tend to be 8 seconds. If you shoot indoors you are likely to exposure for hours. The below image is a 2 hour exposure taken yesterday. If you can name all 5 cameras in this image I will send you a $50 B&H Gift Card! Leave your guesses in the comments section below.
This will be the 11th year in a row that the world celebrates WWPD. I was surprised to see that there aren't any scheduled events in NY, so I have decided to host one! Here are the details for the DUMBO Pinhole Walk:
Where: Meet in front of the Brooklyn Ice Cream Factory
When: 1pm Sunday April 24th – rain or shine
What you need to bring: Pinhole camera, film or digital capture, and tripod.
I will have extra cameras, film, and light meters if you are new to this and want to try it out, but there will be limited quantities and will go to the first arrivals.
From there we will walk and pinhole around Dumbo and Brooklyn Bridge area. This free pinhole photowalk will go until 5pm and we will end back at the Brooklyn Ice Cream Factory for a celebratory scoop!
If you are not in the NY area and want to participate check here to see if there are any events near you or host one!
Click here to RSVP, one lucky attendee will win a signed 1st edition of Michelle Bates "Plastic Cameras, Toying with Creativity"
Hope to see you there!