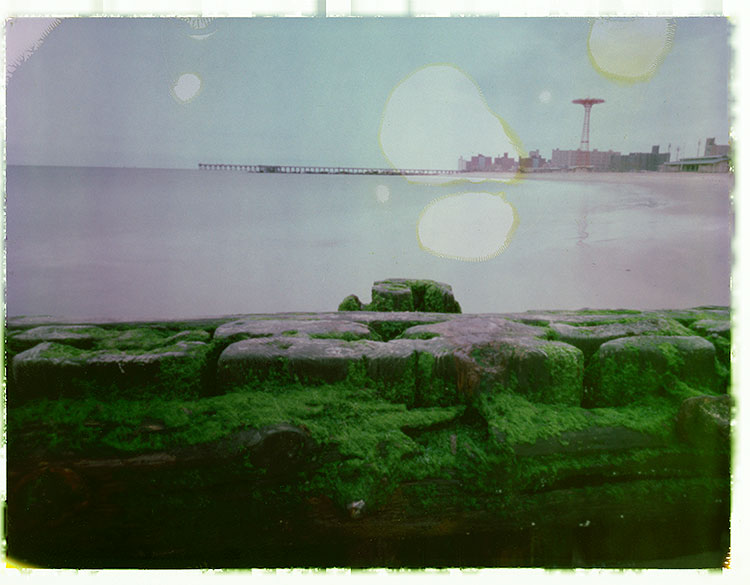 Time to dust off your pinheads and get creative as today is World Wide Pinhole Day!
What is a pinhole camera?
It's a camera that's lens is actually a small pin-hole, usually pricked through piece of aluminum and then placed over the opening of a camera or box. It is the oldest form of photography and with the aperture of the pinhole lens equating to f/150 and beyond it can easily open you to seeing the world in a whole new way. Most modern glass lenses max out with an aperture of f/32 so a pinhole camera's minimal exposure is usually 2-8 seconds on a sunny day.  Given that much time in a single exposure I choose to add subjects that have movement within the image, like water, clouds, or people walking. A pinhole will also give you infinite depth of field, so it is important to place something strong in the foreground to heighten that depth. The above image features both those elements. Shot at Coney Island during last year's gloomy NYC World Wide Pinhole day I place the wide angle pinhole camera about a foot away from the rocks. I also made sure the camera was high enough to show the tide of the water coming in and out during the 2 1/2 minute exposure.
Weather-wise tomorrow looks to be a much better day in NYC with temperatures in mid-80's! A group of us will are planning on shooting at the Brooklyn Botanical Gardens and maybe take a quick dip to Coney! Feel free to send me any of your WWPD images and I'll post them on this site.
Here's some more info on Pinholes and how to make a homemade pinhole camera.
Intimidated with making a pinhole camera here is a list of "Professional" pinhole camera that you can purchase and get consistent results from:
| | |
| --- | --- |
| | Build your own paper/cardboard camera by Lomo. These are fun cameras that give you the experience of "building our own camera" but with all the dotted lines to fold along! Both take 35mm film but do not feature a tripod socket. It's a simple and fun way to get into pinhole photography but if you are serious you will need a camera with a tripod socket. |
| | For a little more money you can upgrade to a medium format Holga or Diana plastic cameras. The most interesting of the bunch is the newly released wide angle multi-format Holga 6×12 Pinhole! My good friend and fellow blogger, Mike Murray just picked up one of these and I look forward to seeing his panoramic pinhole results! |
| | Stepping up to Large format, the Santa Barbara wooden pinhole cameras offer sizes of 4×5, 5×7, 8×10, or 11×14. The 4×5 baltic birch superwide is the most common and is economically priced under $60! But the 11×14 size is pretty tempting for under $250! |
| | My favorite is definitely the Zero Image brand of cameras. These cameras are handsomely constructed of teak and brass and offer a variety of formats to choose from. I personally own the 6×12 and 4×5 versions. Both offer a turret system so you can choose to use a pinhole or zoneplate lens, or a combination of both! |
| | And finally the Lensbaby Composer or Muse can take the ZonePlate/Pinhole optic and easily make turn your digital SLR camera into a visionary camera. See my previous blog for examples. |
Well whatever you use, from an oatmeal box to a high end pinhole camera I hope you have a great day slowing down and seizing the moments of time!